Color Definition:  "Color management is about manipulating the numerical color values of an image to conform to the color potential of a specific output device, weather it be a monitor or a printer." - The Digital Eye | Color Management
SCS Color Policy: We do not guarantee a color match based on your computer monitor or device screen -- If color is critical to your order, we can produce small print samples for physical inspection and approval. While we understand the desire to 'match' our digitally printed graphics to the color of the machine, many times this can prove more difficult than expected.  Due to the high intensity colors used to paint and powder coat in current manufacturing trends, SCS does NOT guarantee exact color matching.
Our products are designed to complement; we pride ourselves in creating designs which utilize color in a way that enhances or improves the original product.  When deciding to wrap a vehicle, it's important to keep in mind everything affects how color is seen and perceived.  The printer, the ink, ICC (International Color Consortium) color profiles, laminate, outdoor versus indoor light, and even the brain alters how one person might perceive a color.  
Color Expectations:  Can I customize the existing wrap designs? Yes. On the product details page, scroll down and find the CUSTOMIZE MY COLOR section.  Choose the option that best fits what you're trying to modify. Multiple color changes are possible and would constitute both the background accent, and foreground colors.  Please enter your specified design changes in the provided input boxes.  Once the purchase has been processed, a digital proof will be sent to you via e-mail for approval prior to print production.  
Color Limitations:   For the most part, digital printing can duplicate a large part of the color gamut, but some limitations do persist.  For example, without using specialty machines like metallic printers, we cannot reproduce metallic or neon colors. We have found through extensive research and development that using metallic inks on vinyl media greatly reduces the durability and longevity of our products.  As such, we have chosen not to offer these products for the time being.  
Real-life Examples: Your device screen likely does not represent actual output color from our printers.  Our policies are very strict when dealing with color matching.  Please find below a real-life example of how colors can be perceived differently from one person to another! http://www.cnn.com/2015/02/26/us/blue-black-white-gold-dress/
Watch the video!
Different readings of the same color: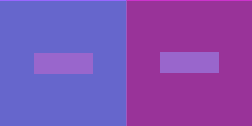 ©
Color Voodoo
 Publications
If your computer has sufficient color stability and gamma correction (link to 
Is Your Computer Color Blind?
) you will see that the small purple rectangle on the left appears to have a red-purple tinge when compared to the small purple rectangle on the right. They are both the same color as seen in the illustration below. This demonstrates how three colors can be perceived as four colors.

Observing the effects colors have on each other is the starting point for understanding the relativity of color. The relationship of values, saturations and the warmth or coolness of respective hues can cause noticeable differences in our perception of color.
---